I finished spinning up the Chocolate covered cherries BFL roving from Spunky Eclectic. I've been working on this stuff on my Golding Spindle for quite some time, at least 6 months. It's a heavy worsted to a bulky weight. Each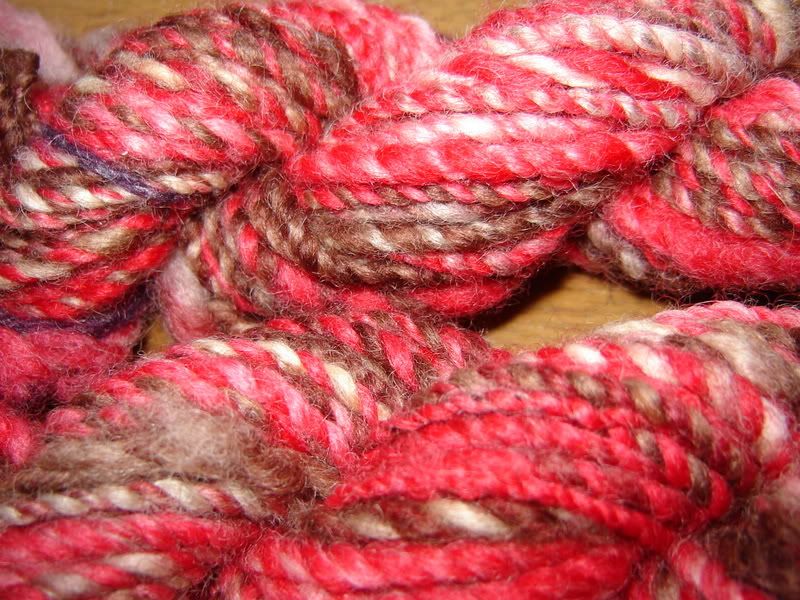 skein is about 42 yards for a total of 84 yards and is 4 oz. I didn't split the roving to try and get regular repeats or anything I just jumped right in and started spinning. It's not the prettiest hand spun but I like it.


So, that means it was time to start a new spinning project. I want to work on drafting and spinning a little(ok, a lot) thinner. A friend got me 1 oz of silk hankies and I've really been wanting to try it. It's in the lagoon colorway. It's spinning up much thinner and is so much fun to spin!

I have also made more progress on the Maltese shawl. I have now finished 7 repeats. The
pattern calls for 88 repeats but I think I'm going to cut that back to 68 or 78 because I'm so short and because I have read that the pattern may use a little more yarn than what is called for. I love this yarn, it is so soft and easy to work with. But I'm afraid it is going to take me forever to finish.

I think I must be one of the last ones who still hasn't gotten April's STR club shipment. I have seen pics on other blogs though and I can't wait to get started on those! Instead CJ sent me a beautiful gift of STR lightweight in the peacock colorway. It is gorgeous and perfect "me" colors! I think I'm going to dig out all of the STR that is in my stash and take some pics. I'm not sure how many skeins I even have!

I also shaved DH's head yesterday. That was a lot of fun for the both of us I think! I haven't snapped a pic of him bald yet but be on the lookout.