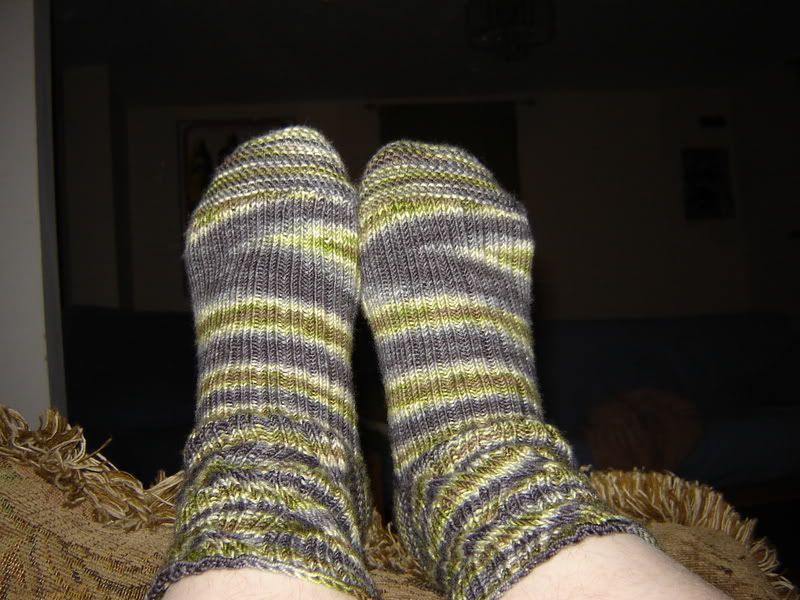 I finally finished my Febuary installment from the Rockin' Sock Club. These are the Inside Out pattern knit in STR Monsoon colorway. I knit the toe, foot and heel on size 0's which seemed to take forever because it hurt my hands but then when I switched to size 2 for the legs it went much quicker. This pattern was pretty easy to adapt to using magic loop. I did the legs a little on the short side because they were starting to get tough to get on over my heel. It was my first time
doing toe up socks and first time doing short row toes and heels. I really enjoyed the process of knitting toe up but I don't see myself doing it that way all the time. The heel seems to fit a little funny to me. Maybe I should have used the size 1's on the heel instead of the 0's and then it would fit better. They are nice and thick and warm.


I also crocheted a fat bottom bag over the weekend to send off in swap. I haven't made much progress on the Maltese shawl, only two pattern repeats. But hopefully things will go quicker now that I finished the socks, at least until the next sock kit comes. I'm also thinking about pulling out a project that was started last year for summer and never got finished. We'll see how that goes!

The electricity issue is still ongoing but at least we got back our tax refund!