While trying to come up with a title for this post I googled "green ravens" and discovered this very interesting wiki page about the Raven Paradox. Well, maybe it's only interesting if you're really bored but all I could think about while reading it was how Blue Moon has proved that not all Ravens are black. Like the case of Ravenscroft,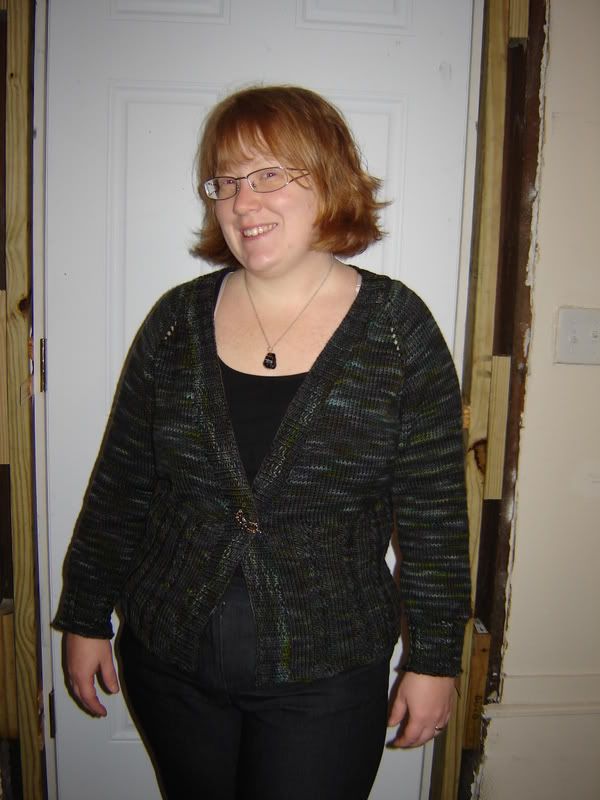 the shades of green are very lovely and worked out quite well for my Mr. Greenjeans.

I love this pattern and I love this yarn! This was one of the best knits ever and I can't believe how fast I finished it! I made the size Large using size 8 and 7 knit picks option needles. I made the stockinette portion of the sleeves about 2 inches longer than called for so that the sleeves are full length rather than 3/4 length. I also knit the sleev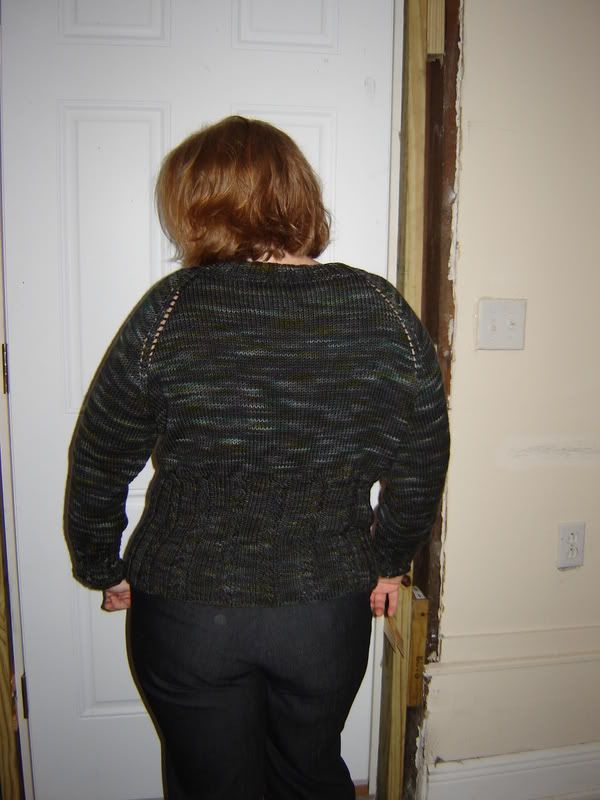 es at the same time using the magic loop method. I lightly steam blocked it after finishing to open up the rib and cabled area and get everything even and laying nice and flat. I did manage to complete it with 3 skeins of the heavyweight yarn but barely, you can see how little I had left.

I haven't found a button that I like yet. For the pictures it's being held shut with a shawl pin
that I have. When I find the right button I'll know it and I'll take another picture. It's pouring down the rain today so no outside pics. But that's our brand new door behind me to replace the one that the burglar messed up! We plan to finish the trim and painting this weekend.

You may also be able to tell in these pics that I've lost a little more weight. My total weight loss for '07
was 45 pounds! I feel so much better and my goal is to lose 45 more this year.

I hope everyone is having a good day. I keep giving my sweater (and me since I'm wearing it) little hugs all day because I love it!