I got home yesterday to find two packages waiting for me. I was so excited, especially after the day I had at work. So, I ripped into the box first. There was a card that said "open me last." So I started unwrapping things. A skein of supersocke yarn, a Jumbo eraser, a notebook, giant paperclips, Burt's bees gift set, a thing of Soak, tea and a tea infuser, a giant pen, (catching breath), wait there's more, another skein of sock yarn, this one Socks that Rock lightweight in the Tidepool color, beautiful stitch markers, knitting notecards, dpn protectors, a giant pen, and last but certainly not least, the book "Romantic Style"!!! Wow! Who did this amazing package come from??? I opened the card in anticipation to find out. A big huge thanks to Killerdaisy on Ravelry for this awesome summer camp secret exchange package!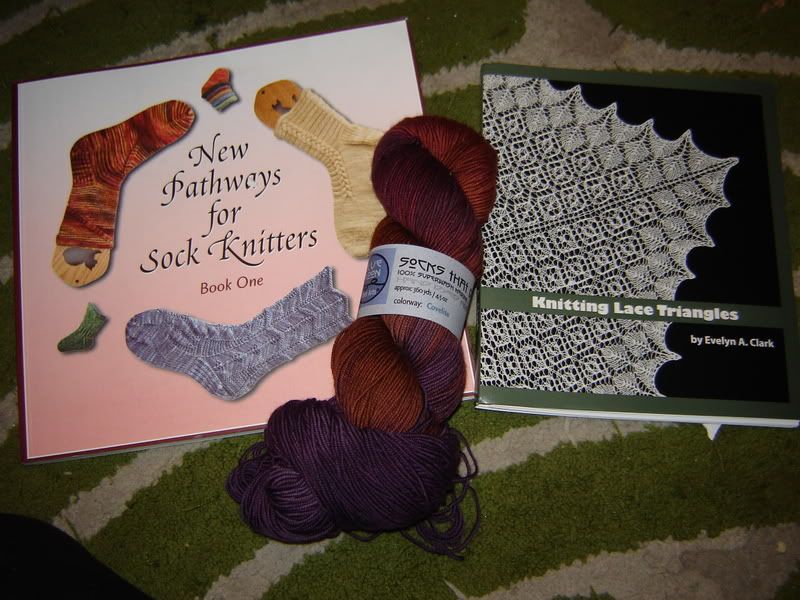 But wait, it's not over, there was a second package remember! Gasping, thinking how can this get any better, i ripped into the second one! Digging through all the packing peanuts I finally pull out Knitting Lace Triangles by Evelyn Clark! But there's more, next a pulled out New Pathways for Sock Knitters by Cat Bordhi! The book that everyone has been talking about and guess what! It's signed! It felt like there was something else still lurking in the package, I reached in one more time and pulled out a beautiful skein of Socks that Rock lightweight in the Covelite color! Hmmmm, smell that wonderful hand dyed smell, and smile! And a super huge thanks to my friend CJ who sent me this package out of the blue just because she's such a super nice and thoughtful person!

What a wonderful way to start the long holiday weekend. Thank you both so much for your kindness and generosity.