Thank you everyone for the kind words about my migraines and the hospital stay. I got out of the hospital on the 10th, 3 days after I went in. The doctor gave me DHE treatment for the whole 3 days. The treatment made me sleepy and nauseous but I was feeling so much better when I got out of the hospital. But the headaches are returning. They aren't quite as bad as they were before going into the hospital but they seem to be getting longer and worse everyday heading straight back to where I was before. I don't know what to do. My next appointment isn't until
the end of September with my current neurologist. I'm also thinking of going to another neuro for a second opinion but I'm not sure if they can offer anything else. I'm also considering telling the neuro that I will go back on the Topamax because it was the only thing that has helped to any degree. I went off of it last November due to the side effects. I'm just so tired of dealing with this everyday.



While I was in the hospital I decided to take some easy knitting with me and cast on for a pair of jaywalkers. I used some Panda Cotton in the Violet Breeberry color that I purchased on my vacation in Tennessee. The Panda Cotton feels dreamy knitted up but it is quite splitty while using it. I defanitely wouldn't use it with a really lacey pattern. Also, the put up is on the low side (~183 yards per skein), not sure if 2 skeins would be enough for a pair for say hubby's size 13's.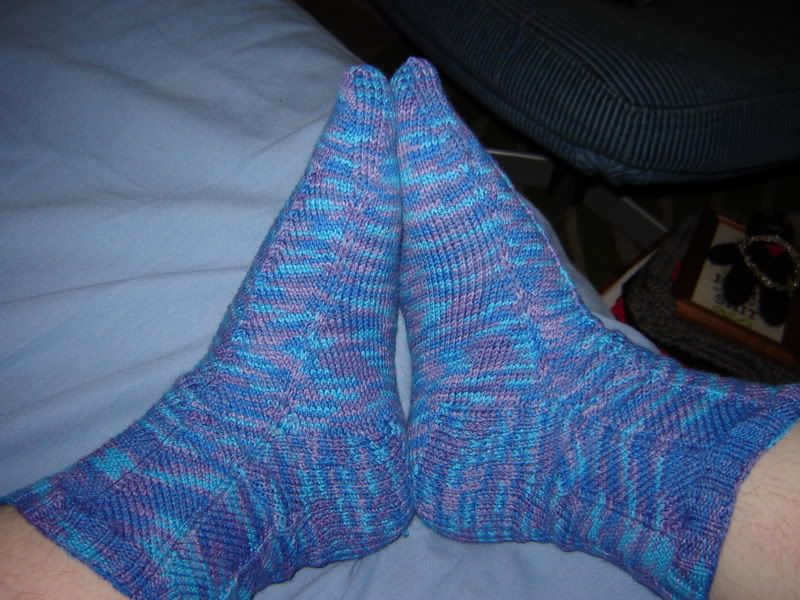 I'm having a lot of fun on the new motorcycle and have now sold the old one. Just have to get a bike for hubby now so we can ride together! Hope everyone has a wonderful day!