Yes, it took me about a year to finally finish this tank top. It is
Pink Frosting
from the Spring '06 Interweave Crochet. It is made in Rowan 4 ply cotton and took almost 7 full balls. I bought 8 so I have about 1.5 balls left. Even though this was in Interweave crochet the body of it is knit with 3 panels of cabling going across both the front and back. The sleaves and the ruffles are crocheted. This was the first big knitting project that I started even though many other knitting projects have come and gone between the start and finishing. This was a real learning experience for me. This was made mostly to the 42" bust size but I made some adjustments by increasing my cast on by 6 stitches but then I also changed the rate of of increases and decreases so that the waist measurement stayed the same as the 42" size. If I were to do this again I would make it a little shorter as I don't like were it hits my hips. I also learned that by doing the increases/decreases a few extra stitches in from the edge will make seaming a lot easier. Seems pretty simple but when I started this I had been knitting for less than a month and had no idea what I was doing.
I checked for errata on the Interweave site and there was none listed for this project but I did
run into a couple of things worth mentioning. I didn't find any issues with the knitting part. On the crocheted part of the sleeves on one of the rounds the chart shows to do a DC, ch1, sk st, repeat but the written instructions leaves out the sk st part. On Round 20 the written directions don't match the chart for the number of chains to make each little loop. I followed the written directions. And on the ruffle the last 2 rows again do not match from the chart to the written instructions but I just worked them the same as the last few rows of the sleeves. Overall a pretty good pattern.
A also made a quick
Sophie
bag from Magknits. This pic is pre-felting and I thought I had a better pic of it post felting but this seems to be the only one I have. I made this for a swap. I love making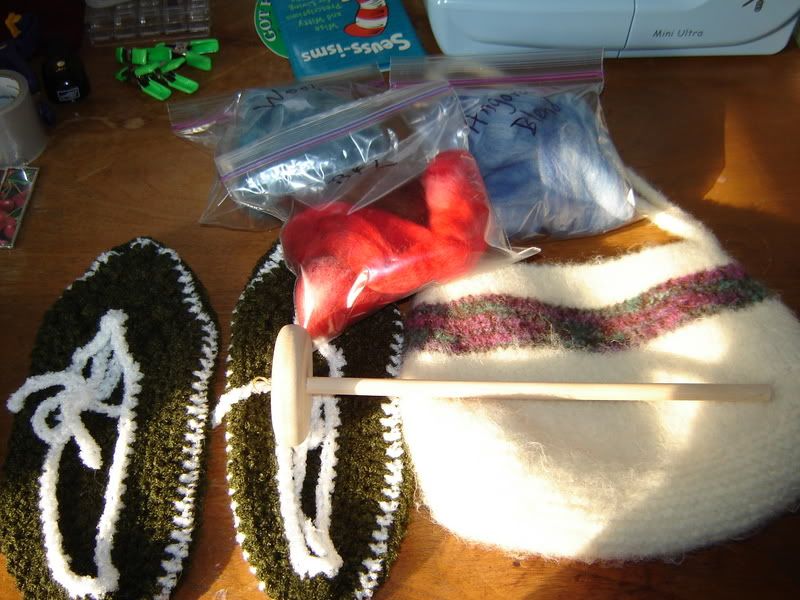 and felting bags but don't have much use for them personally so they end up getting swapped or gifted.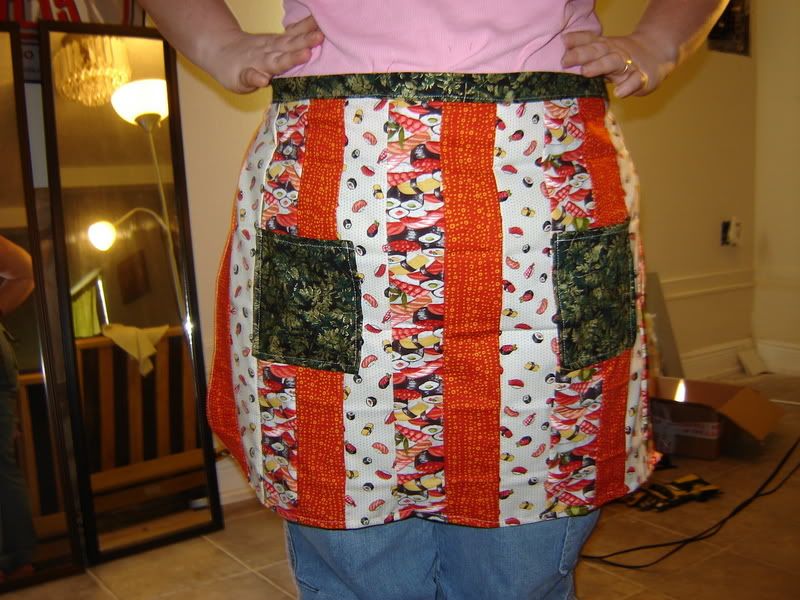 I also dug out the sewing machine this weekend and whipped up this little sushi apron! It was fun and something different. Unforunately some of the sushi panels turned out upside down!