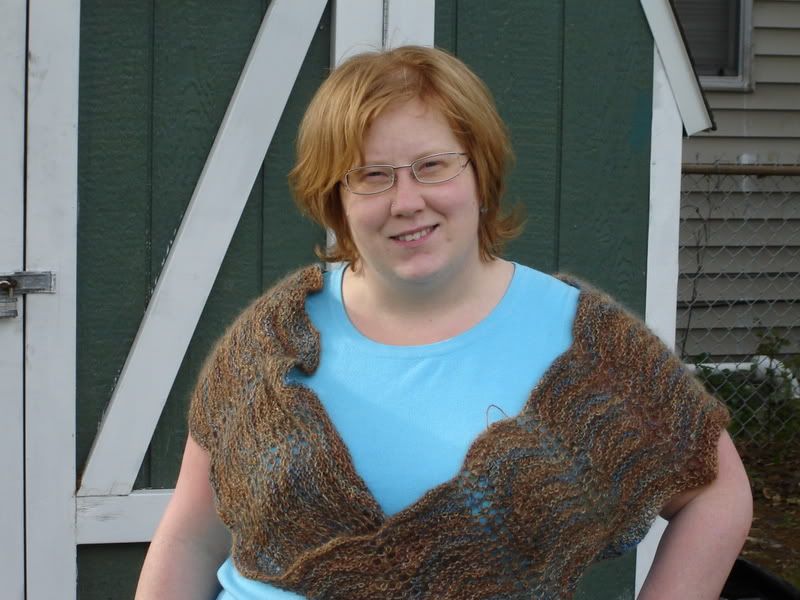 I finished the Circular Scarf in Old Shale pattern. The pattern was free with the purchase of the Primero yarn I bought at Stitches West from Brooks Farm. The picture doesn't show the blue that's in the yarn very well. The yarn is so soft and yummy and I will definately be getting more of it in the future. I was worried about casting off too tight and then it not blocking very well and I think I ended up casting off too loosely! The cast off edge is a little wavy still even after blocking.

I'm still working away on the STR Inside Out socks. I also am working on a crocheted hat out of jute using my own pattern but I need to make a run to the store for some ribbon. I'm thinking about making the pattern available here for it if anyone is intersted.

The saga with the electrical and gas inspections continue. No response at all from the previous owners in helping to defray the cost of the inspection. Also, haven't seen "Joe" since last Wednesday. I'm getting very frustrated and I dont' know how much more frustrated I can get at this point! (Edit: Just heard from "Joe," he says his brother has been in the hospital and he'll be out tomorrow.)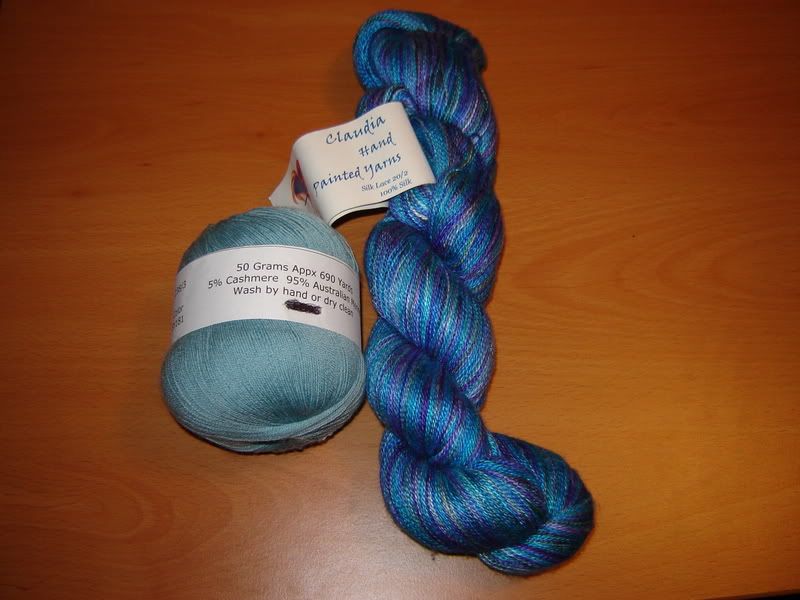 Ok, time for a contest to liven things up around here! I'm hooked on lace since finishing swallowtail and want to start the next lace project. I bought a skein of gorgeous Claudia's Handpainted Silk lace weight at Stitches West. It has 1100 yards. I also bought a copy of Victorian Lace Today. So please leave a suggestion for which pattern in Victorian Lace Today (or if you have something else, but I may not use it if I have to buy another book) you think would work with the silk.


I'll pick a lucky winner to receive a skein of Gentle, 690 yards, in a light blue color. This is the same yarn I used to knit swallowtail with, it's 5% cashmere and so soft. You have until Sunday morning when I plan to cast on.

The color of the Gentle I think is closer to the first picture and the color of the Claudia's is closer in the second but with more sheen.